Enticing recipe content… free!
Powered by Just A Pinch Recipes
Get a Full Page Food Section
NEW
Automatically add recipes to your site. Paste a single line of code on your page, and we'll dynamically generate a page full of seasonal and trending Blue Ribbon recipes from real home cooks.
Find the Perfect Recipe
Finding relevant recipes for articles and emails is easy. Use the powerful search tool to find content by topic, ingredient, or by name. It's even searchable by zip code to use recipes by readers in your market. Discovering recipes through our curated collections is your one-stop go-to for seasonal recipes.
Easy as 1-2-3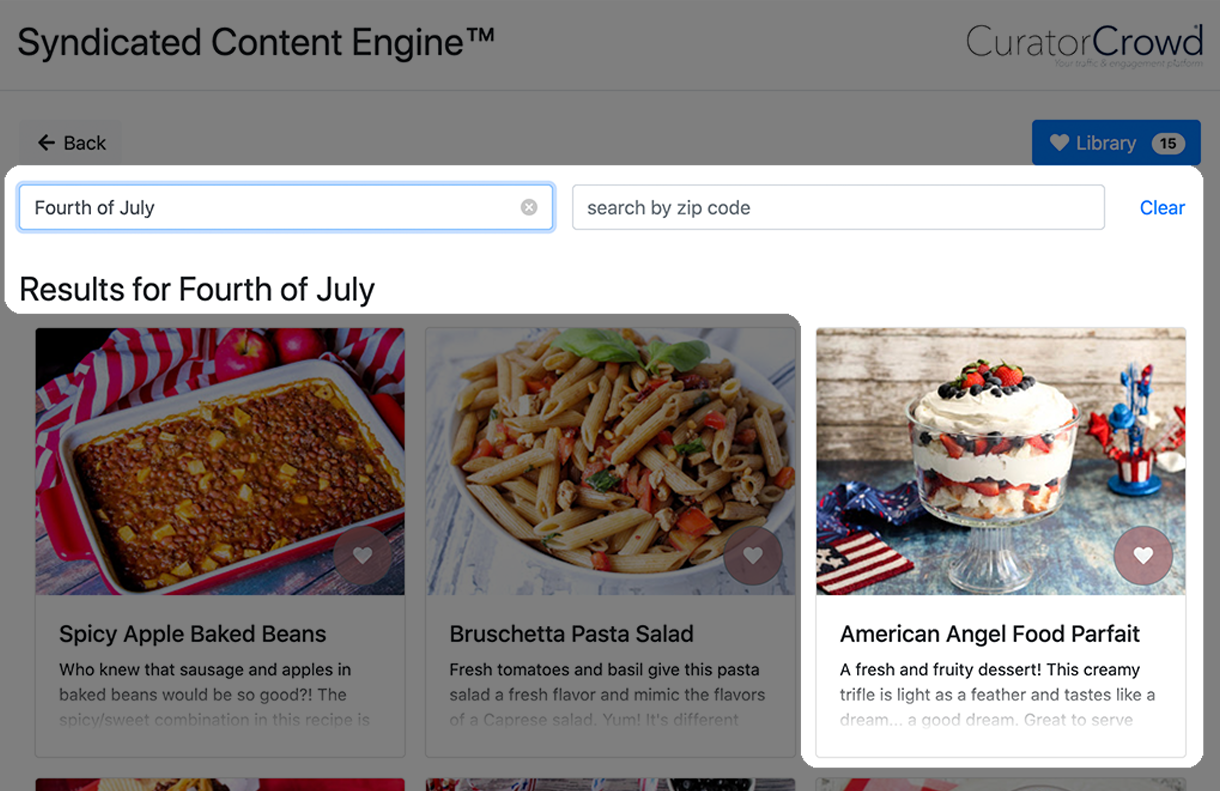 1. Discover easy-to-find curated recipes.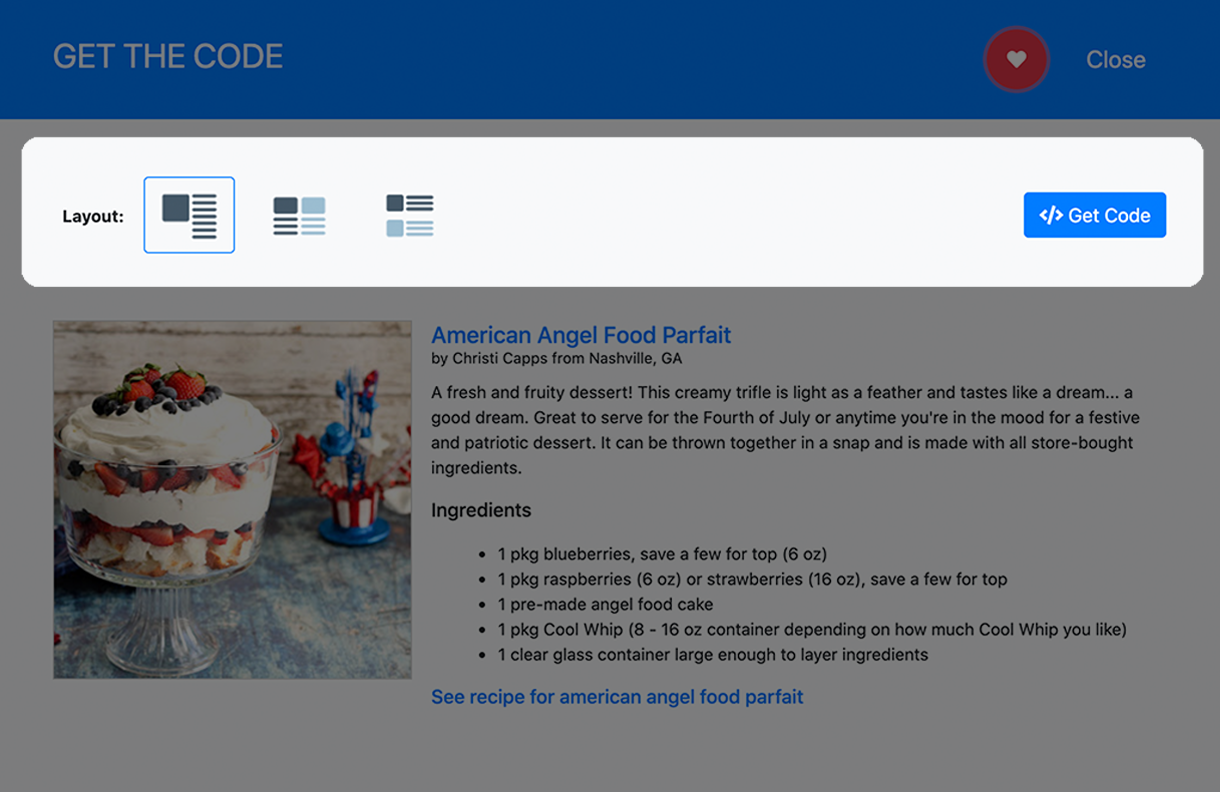 2. Choose your layout & get the code.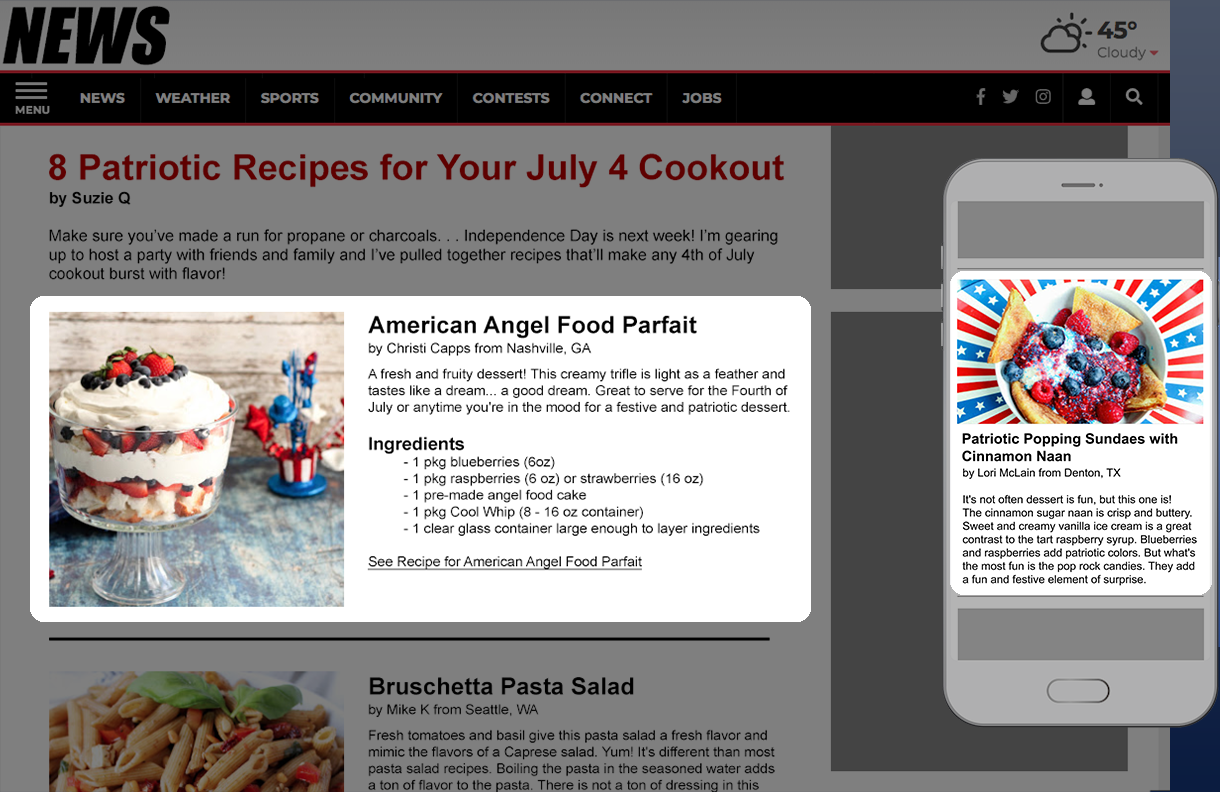 3. Paste into your articles & emails.
Engaging Content
Enhance current editorial or create new articles for your readers using content from a highly engaged vertical – food!
Easy-To-Find
Find best-fit recipes using powerful search options including recipe name, ingredient, method, occasion, and even zip code for hyper-local results.
Curated
Get inspiration from JustAPinch.com curated collections, weekly featured recipes, and seasonal picks.
Copy & Paste
Choose from three easy-to-embed options—just copy & paste a snippet of code into your article HTML or email newsletter.
Local Sponsorship
Increased seasonal & regional content helps you generate additional local sponsorship opportunities.
No-Cost
Free! Use as many recipe snippets as you prefer as often as you like.
America's Favorite Hometown Recipes Page Example
Responsive design that seamlessly fits any site template. Create new sponsorship opportunities and generate more page views.
---
YOUR SITE HEADER AND NAV
YOUR PAGE TITLE
INTRO TEXT
MORE PAGE CONTENT
YOUR SITE RAIL
YOUR SITE FOOTER
America's Favorite Hometown Recipes Print Page Example
Use our syndicated recipes to build pages for your print publications.