We take the headache out of ad management so you can focus on creating great content.
The AHM Ad Management Platform manages the programmatic monetization of sites covering a wide range of verticals including food, lifestyle, tech, and beauty. Leveraging years of experience creating a state-of-the-art advertising platform for Just A Pinch Recipes, we've created a turn-key solution that generates revenue for your site through programmatic display, video, native, and in-image advertising.
As publishers ourselves, we understand the issues you face in driving revenue in an ever-changing digital landscape. Stop worrying about staying on top of the latest ad technology and day-to-day advertising operations, so you can focus on creating great content and world-class content and user experience for your readers. We have consistently seen our platform double a site's revenue.
Simple Setup
All it takes is a bit of code on your site to get started. Ad placements are inserted dynamically.
Top Ad Partners
We work with industry-leading ad partners and run exclusive deals with the top brands in the world.
Protection
We use a top security service to keep bad ads, like mobile redirects, from serving on your site.
CBA Compliance
We are fully compliant with the Better Ads Standard created by the Coalition for Better Ads.
Video Hosting
We host and stream your videos through our video player at no cost to you.
Like-Minded
We are not a network. As publishers, we understand your business and speak the same language.
Personal
We work with you directly on enhancing your business – not hidden behind support tickets.
Insights
A dashboard with everything in one spot – daily revenue, RPMs, payments, and analytics.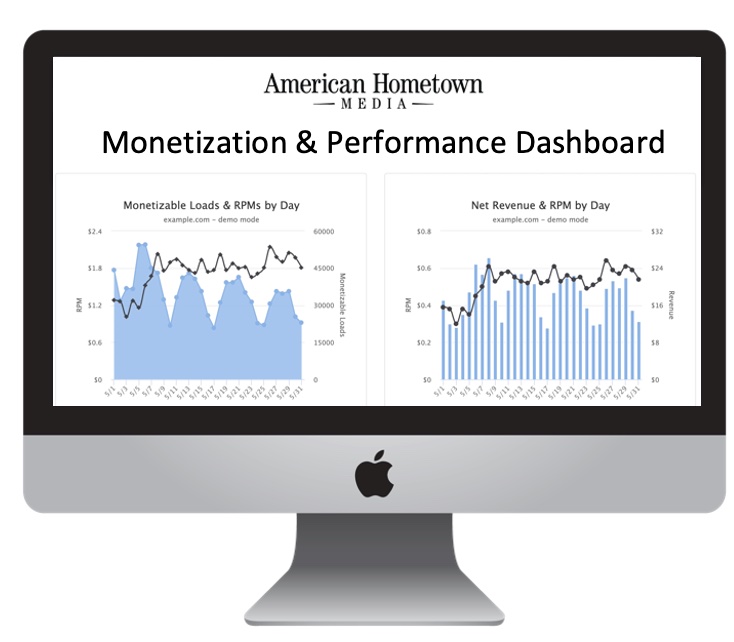 Let us do an analysis for you to see if we can help!
contact: info@americanhometownmedia.com